gm90
Written by
gm90
on September 13, 2018
Written by
gm90
on September 7, 2018
Written by
gm90
on June 6, 2018
Hello, I've bought an expired domain at auction. I've spent thousands of dollars to get it.
The domain is listed in the top 2,000,000 Ahrefs Rank, it has 37 DR 10 UR, 3.16K Referring domains.
My question is, in your opinion do I have chances to rank for this keyword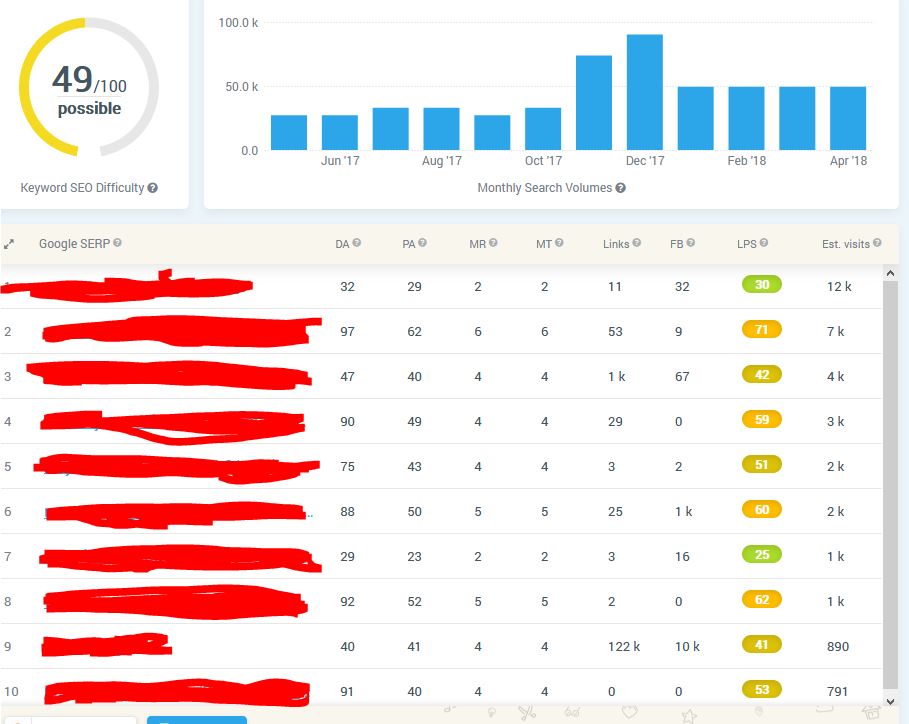 In this top 10 all websites are authority inner pages (Best Buy, Amazon, Walmart…) Excluded the website on position 9 which is an homepage.
I don't know if these…
Written by
gm90
on May 25, 2018
So I've took an article that was ranking on page 1 position 4. Their website is quite authority, it has 500 RD to the homepage, tons of articles and traffic, they also run an adwords campaign. DA 35. Domain strenght on Ahref is 43.
What I did: I rewrote one of their articles that was ranking on position 4 for a certain keyword. It took me 10 days to rewrite it (I was a bit lazy). I'm sure I did a great job rewriting it, and it pass the copyscape check.
Then I finally published the article…
I just did negative seo? Target website disappeared from SERP
Written by
gm90
on May 17, 2018
Hello, I usually read that my articles must be good and has to provide value. So, for example, are you able to make a search on google and send me (maybe on PM) the link of a website that has a good written content about Microwaves so that I can take a look? I've tried to make a search by myself but I'm not able to know if an article is well written or not.
thank you
Written by
gm90
on May 16, 2018
So I think I found a nice article. Now I want to rewrite this article for my site. I don't want to copy the article, I just want to rewrite that article keeping the meaning but changing the whole text so to make it original.
But the owner in the copyright policy told to not copy nor rewrite the articles published in his website.
Written by
gm90
on May 9, 2018
Hello, let's say I want to drop 15 PBN links. How many link diversity should I use? Is a ratio of 1:1 right(so 15 PBN links and 15 links from other sources like blog comments, press releases, etc)?
Written by
gm90
on May 7, 2018
So I built a money site 5 months ago… it's a dropshipping store, I have something like 10 products on homepage and then I've write an article of 500 words. In total I have a 1000 words homepage. I've let it age for 5 months waiting for rank (you know, I didn't expect much but a position 100 at least… but I get none)
The store on position #1 it's a dropshipping store too… but he doesn't have an article on it. He just throw something like 100+ products on homepage. These 100+ products…
Can I start building links if my $ site is indexed but it's not ranking?
Written by
gm90
on May 6, 2018
So, the target keyword has to be 3% or less right? To be considered a good On Page SEO.
But what if I have other lines above 3%?
Let's say:
Random word 1 – 8%
Random word 2 – 4%
Random word 3 – 3.5%
Target Keyword – 2%

Is this okay? I mean having not-targeted KW over keywords 3% is bad? Is it okay?
Written by
gm90
on May 1, 2018
Let's say my parents own some chickens that produce eggs, my question is: Is it possible to use the eggs to produce some kind of food to sell online under my own brand? If yes, what food would be a good idea for this kind of weird business? Honestly I can't get an idea